Contents
New York is known for many things: tourist attractions, nightlife, food, shopping, and much more. So it won't come as a surprise that you can also find excellent beauty services there. Nails, hair, piercing, spa – you name it, New York has it all.
If you've come to NYC, booking yourself a luxury manicure or pedicure should definitely be on your to-do list. If you are a New Yorker, it's always nice to know where you can get the best beauty treatments in your city. Whether you want a basic, yet high-quality manicure, a relaxing spa pedicure, an Instagram-worthy gel mani, or any other nail procedure – there's a top-notch NYC nail salon for you.
Here, we've put together a guide to the best nail salons in New York, so be sure to check it out.
Yukie Natori New York Salon & Spa, is dedicated to providing Japanese style nail arts to New York City. Nail art in the Japanese style is not only about taking care of nails, but about nail treatment as a whole including pre- and aftercare services. The salon offers a wide color selection of 800 shades and is best known for its gel nails services that have won it the recognition it deserves.
This nail spa is all about welcoming staff, relaxing music, and a peaceful atmosphere. The staff will help you learn your specific needs and suggest your treatments accordingly, be it nail, face, hair, or other services. Plus, you will be offered a selection of complimentary drinks and snacks prior to your luxurious experience. The warm aura, excellent customer service, and high quality of nail art will make for the best pampering experience.
Address:
39 West 56th Street New York, NY 10019
Email:
INFO@YUKIEBEAUTY.COM
Phone:
212-702-9660
212-810-6900
646-649-5324
Website:
https://yukienatori-newyork.com
This is an all-natural nail and sugaring studio and shop in the Lower East Side. If you are all for a mindful, organic, and sustainable approach, then you should totally check them out. The studio prioritizes quality over quantity, purchasing their treatment products in small batches and giving preference to non-toxic and organic products whenever possible. The nail salon offers a nice variety of regular and gel nail polishes as well as manicure and pedicure services to deliver both beauty and healing benefits. Thanks to the high quality of their products, you can rest assured that their procedures will not only make your nails pretty, but also help to restore and nourish them, making your skin and nails shiny and youthful.
Address:
210 Forsyth Street, New York City 10002
Email:
info@hortusnailworks.com
Phone:
917-475-1558
Website:
https://www.hortusnailworks.com
Also, take a look at the nail designs from the best nail artists
French manicure is one of the most common and popular nail design techniques. It's usually associated with of beauty and sophistication of a woman who wears it.
Treat yourself to a beauty procedure in this luxury nail and spa salon and get ready to impress. This spacious salon offers a wide range of services, including manicures, pedicures, eyelash extensions, facials, and massages. The salon managed to strike the balance between safety, convenience, and pleasant vibes. You will be greeted with comfort in a cozy waiting area with a coffee machine to improve your experience. The salon values safety and made sure to upgrade all stations with the necessary devices for extra precaution while keeping them convenient and stylish-looking. There are manicure and pedicure stations as well as four private rooms for massage, facials, and other procedures. And their selection of nail polishes also features high-end brands like London Town and Chanel.
Address:
2091 Broadway, New York, NY 10023, USA
Email:
info@beautyboxny.com
Phone:
646-490-4500
646-490-4245
Website:
https://www.beautyboxny.com
This full day spa service offers an extensive selection of treatments and excellent service. They treat beauty procedures as a part of the journey to self-discovery and promise a peaceful and rejuvenating experience and services performed by professionally trained staff. The salon takes pride in its carefully crafted serene atmosphere, skilled specialists, and competitive products. The services can be customized to the guest's preferences to provide the ultimate experience and customer service. If you are looking to take a break from hectic schedules and high stress levels, then don't miss a chance to get yourself the relaxing nail treatment you deserve. Affina Beauty & Spa is just the place for you.
Address:
125 Church St, New York, NY 10007
Email:
affinanailspa@gmail.com
Phone:
212-233-8822
Website:
https://www.affinanailtribeca.com
Look also: Spring Coffin Nails
When spring comes, not only nature and romance wake up. As a rule, at this time of the year people feel an urge to change and create new looks: come up with a new clothing style, hairstyle, make-up, and get a spring manicure done.
Nail artists recommend to pay special attention to spring-inspired nail decorations during the spring season 2023. Such kind of nail design awakens unspoken feelings and paints your mind in incredible colors. Don't you think so?
This full-service wellness beauty salon treats their clients like friends and takes their experience and wellness seriously. The salon provides a wide range of high-standard services, from manicures and pedicures to massages and facials. No wonder 'QQ' in the name of the salon stands for Queen's Quality. This beauty salon is set to make your visit enjoyable, promising to welcome you with a refreshing beverage and help you make yourself comfortable in their beautifully furnished locations. They are committed to creating an inviting atmosphere and an unforgettable and comfortable spa experience for their clients. With such a friendly approach, you can count on them to deliver excellent nail treatments and a memorable and rejuvenating spa experience.
Address:
QQ Westchester Ave
125 Westchester Ave, White Plains, NY 10601
Email:
info@qqnailspa.com
Phone:
914-435-7034
Website:
https://www.qqnailspa.com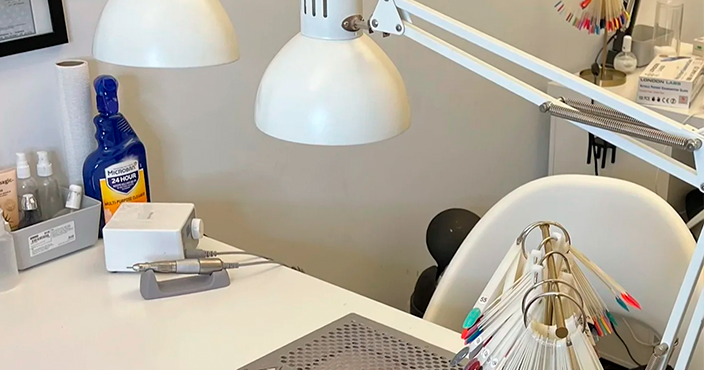 This nail salon specializes in dry hardware manicure and pedicure services as well as nail extensions. They guarantee high-quality treatments and customer service. And did you know that their founder and master technician is champion of the International Nail Championship? The salon gives extra attention to the expertise and skill of their technicians, who take annual courses to improve their skills. Another benefit of the salon is efficient time management. You can book several procedures at once and be sure that it will take no more than the specified time, allowing you to go on with your daily routine and plans. Plus, you can enjoy a bit of luxury with their nail services.
Address:
37 west 26th street , suite 206 New York
Email:
nycloftnails@gmail.com
Phone:
917-498-5331
Website:
https://nycloftnails.com
Look also: Acrylic Nails
Trends in the design of artificially worked nail plates correspond to general trends. Bright colors, interesting techniques, innovative decor methods are in fashion. We offer the hottest ideas for manicure for extended nails.
Located at a beautiful place in Howard Beach, this nail salon offers you the ultimate experience in pampering and boosting your natural beauty with the help of their welcoming, creative, and professionally trained staff. The salon pays close attention to choosing only top-quality products and materials to provide only good services and treatments. Plus, if you're looking for a great price-quality ratio, Nail - Bar is definitely a place to check out. This establishment values safety and sanitation and makes sure that the equipment, implements, and other instruments are always thoroughly cleaned before being reused. This is a nail salon that puts their customer's safety and satisfaction as their number one priority so you can relax and enjoy your beauty treatments in a cozy and luxurious environment.
Address:
133-40 79th Street Unit D,
Howard Beach, NY 11414
Email:
nguyen24ny@gmail.com
Phone:
718-296-6999
Website:
https://nailsbarhowardbeach.com
If you're looking to relax and get high-end services in NYC, check out Deluxe Nail and Spa. They offer their clients individual attention, comfort, and a new experience. This nail salon offers a complete range of manicure, waxing, massage, and pedicure services and treatments to suit any preference. They employ only professionally trained nail technicians and use only high-quality materials to make sure you are satisfied with the outcome. With this trustworthy approach, you can have a relaxing time and enjoy the atmosphere of the salon while getting your nail and spa services. Plus, although you can book an appointment in advance, the salon welcomes walk-in clients too.
Address:
241 Rte 9W #7, Glenmont, NY 12077
Email:
deluxenailspa@yahoo.com
Phone:
518-935-2300
Website:
https://deluxenailspaglenmont.com
Look also: Nail Art for Long Nails
Let's face the fact, real beauty always draws everyone's attention. And your pretty hands with long nails aren't likely to leave people indifferent. Some girls are convinced that such manicure is irrelevant this season, but the number of long nails fans is no less than the number of those who are keen on short nails.
Vanity Projects is a luxury concept that merges a high-end nail art atelier with video art programming. Their vision is all about reshaping the way patrons perceive and experience video art by placing it in an engaging environment. The project's founder developed the concept of the artist-in-residence program, offering top international artists to engage in the exchange of ideas and techniques. The salon specializes in innovative manicures from the most sought-after nail artists in addition to a standard range of nail treatments using the finest nail polishes. They offer their clients a unique opportunity to have their nails done by the best international talent. While providing a bespoke nail experience, Vanity Projects presents contemporary video art, allowing their clients the unique experience to engage with the medium in a relaxed environment.
Address:
99 Chrystie Street, 2nd Floor
New York, NY 10002
Email:
contact@vanityprojectsnyc.com
Phone:
646-410-2928
Website:
http://www.vanityprojectsnyc.com
The highest level of professionalism and sanitation and the best services at reasonable prices — this is what can be said about Allure Nails NYC. This nail salon uses the newest technologies and keeps track of the latest trends in the nail industry. High professionalism, 15 years of experience in the industry, a great price-quality ratio, and a wide range of nail treatments and services certainly make this nail place well worth a visit. What's more, they have their Special Gel Art Menu, encouraging their clients to choose their own special hand paint or detailed designs, which is one more reason to check this nail salon out.
Address:
39 John St, Unit 2A, New York , NY 10038
Email:
contact@allurenailsnyc.com
Phone:
347-971-7851
Website:
https://allurenailsnyc.com
And there you have it – our selection of top ten nail salons and spas in New York. We recommend taking the choice of your nail salon and technician seriously to get only the best treatments for your lovely nails. In addition, the nail salons from our list are not only about services alone, but also about relaxing and enjoyable experiences. There's never a wrong time to pamper yourself, and you can easily do this in any of these nail places!
If you want us to write about your beauty salon or the salons of your city, please send us an email to support@theyou.com with the topic 'Beauty services'.