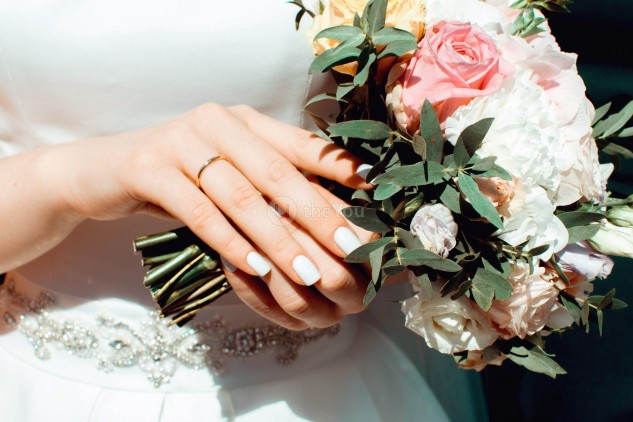 Contents
A bride carries her bouquet around almost throughout the entire wedding ceremony, so this bunch of flowers should complement her look and be comfortable to hold. We have compiled a list of florists' tips on how to choose a perfect bridal bouquet.
Picking Flowers
Feel free to incorporate any flowers into her bouquet as long as you like them. Here are florists' most common picks:
roses
peonies
orchids
hortensias
tulips
buttercups
chrysanthemums
wildflowers
Choosing the Color Scheme
Hues used in the bouquet should work with the wedding dress and match the overall color scheme of the ceremony. Bridal bouquets often feature pastel colors, such as white, pink, light blue, peach, and lilac that highlight the elegance of the bride's look.
The bouquet could also feature vivid colors or a couple of bright accents. A colorful bridal bouquet might complement a matching dress or highlight a laid back outfit. However, keep in mind that hues in the bouquet and the dress should be different so that the bouquet stands out. Here are some possible color combinations:
milky, champagne tones with creamy hues;
soft pink, light lilac with amaranth, crimson, or purple;
ivory with blue, lavender, yellow, or magenta colors;
A snow white dress goes well with any hue.
In case you are interested in the meanings of colors, we shall give you some examples from the Victorian era when bouquets were used to deliver messages that couldn't be spoken aloud.
White is a traditional wedding color, a symbol of purity and innocence.
Red represents life, love, and energy.
Gold signifies the sun, abundance, and positivity.
Orange is associated with health, happiness, and harvest.
Blue is a symbol of faithfulness, calmness, and infinity.
Green is the color of hope and unity with nature.
Shapes of Bridal Bouquets
The shape of a bouquet is completely dependent on the silhouette of your wedding dress, your appearance, and comfort. Here are the most popular shapes of bridal bouquets:
Biedermeier. Such a bouquet is made of various plants that are arranged into circles. Every circle is composed of different types of flowers with the top featuring several types.
Round. This is one of the most popular shapes of bridal bouquets. Flowers are secured to a frame, which prevents the bouquet from falling apart.
Glamelia. This composite bouquet looks like a single large flower formed from separate petals and artificial materials. It costs a lot, but its unusual look, light weight, and longevity are worth it.
Structured. Such a bouquet is asymmetrical. The downside is its heavy weight.
Posy. Flowers are arranged around a special bouquet holder that helps to maintain the shape and freshness.
Pomander. In this ball-like bouquet composed of flowers, berries, and leaves, stems are almost invisible.
Cascade. A cascading bouquet looks like a waterfall of flowers. The best picks for such a shape are orchids, roses, and lilies.
Wand. In this bouquet, florists use flowers with long stems that are attached to a wire rod.
Matching the Bouquet to the Wedding Dress
Ball Gown
A voluminous ball gown should go with a large bouquet from big flowers so as it is noticeable. The shape can be a cascade, round, posy, biedermeier, or structured.
A-Line
This simple and classy silhouette can be accompanied with a rather simple and light bouquet from one type of flower. Suggested shapes include round, pomander, and wand.
Empire
This flowing light silhouette goes well with a slightly messy floral composition of a round, cascading, or asymmetrical shape.
Mermaid
The train of a mermaid dress suggests that the best bouquet shape for such a dress is a cascade. If a cascading bouquet seems inconvenient for you, you could opt for a wand bouquet. Its long stems also match the proportions of the outfit.
Short
A small and elegant bouquet is a fitting option for a short dress. Small flowers arranged in a round or posy bouquet look especially good. A glamelia or biedermeier are also nice options.
Choosing a Bouquet to Suit the Bride
Here are some tips on how to choose a bridal bouquet to flatter your body type and hair color.
Small bouquets are great for short brides.
Tall brides should choose long or cascading bouquets.
Small round bouquets flatter slim women.
Elongated floral compositions suit plump women.
Brides with dark hair could go for a composition from vivid and light colors.
Soft powder hues – creamy, peach, sandy, pink, and sky blue – are perfect for blonde brides.
Tips for Brides
When you meet your florist for a consultation, show them your wedding dress to pick the most fitting color scheme.
If you are planning a long wedding ceremony, take measures to keep your bunch of flowers fresh.
The most long-lasting flowers are freesias, orchids, chamomiles, and lilies.
Choose flowers that are in season. They will last longer and suit the wedding better.
If your wedding ceremony will be long, it's better to make sure that your bouquet is rather light and doesn't have a strong smell, or else you will find it uncomfortable to hold it for hours.
Fresh flowers always look better. Use fake flowers only as a last resort. Dried flowers are a better option.
Make sure that floral elements in the bride's hair, the groom's boutonniere, and bridesmaids' corsages match the bridal bouquet.
If you plan to keep the bouquet intact, but do not want to give up on the tradition of throwing a bouquet, order another smaller bouquet for this purpose.
Tell your florist that you want to dry or preserve your floral accessory – this will influence the choice of flowers.
Now you know everything about bridal bouquets: hues and color schemes, compositions and shapes, compatibility with the dress and bride's appearance. We hope that our tips will help you to choose the perfect bouquet for your wedding.