Contents
"I've got my first tattoo." Do you feel that thrilling sensation when you imagine pronouncing this phrase after leaving the tattoo parlor? If you do, you are ready for it. What design to choose for your first ink? How to get ready for a visit to a salon? What are the aftercare rules? Read on to find everything you need to know before getting inked for the first time.
How to Choose Your First Tattoo?
What is a tattoo for you? A stylish body decoration, the desire to copy your idol or a way of self-expression? In any case, choosing the image that you'll live with for the rest of your life is a responsible decision.
Design
Look for inspiration on social media, themed websites, and in our photo gallery. Save your favorite sketches and compile a mood board. Once it's ready, you will find it easier to come up with ideas for your first tattoo. Or you can show the mood board to your tattoo artist and see what they can make of it.
Tattoo sketches in the etching style
A tip: Pin the photos of tattoos and sketches you liked in plain view. Wait for about two weeks and look at the designs again. If the pictures leave you indifferent or even annoyed, keep searching.
Every design has a meaning, so make sure to study the interpretations of motifs you like. They may not coincide with your values or, vice versa, be the perfect illustration of them.
Style
Since the times of the first Maori tattoos, people's imagination and various cultural traditions led to the creation of numerous tattooing techniques. There are about a hundred of them now. The style of a tattoo is another main aspect you should decide upon before going to a tattoo parlor.
Let's look at the most popular styles.
Traditional. This style has roots in the history of tattoos of sailors and travelers who brought home 'body souvenirs' from their voyages. This style is all about bold crisp outlines, simple and vivid colors, and designs featuring women, skulls, roses, and anchors. It's similar to the old school style.
Realism. This is a popular though relatively young technique. Tattooists create images that look like a photo, achieving a realistic effect with the help of contrasts and shading.
Japanese. This style is around 5,000 years old. Members of the Yakuza, the Japanese organized crime syndicate, wore tattoos in this style. They resemble Japanese art and often depict dragons, spirits, samurai, and nature scenes.
New school. This style is inspired by traditional American tattoo culture and pop culture. New school tattoos are distinctive thanks to bright colors and cartoonish designs.
Etching. The popularity of this classical style never wanes. These intricate and neat tattoos look like black and white illustrations in old books.
Ornamental. This technique takes an impressive take on the laws of geometry. Crisp lines forming variations of and creative takes on different patterns are characteristic of this style.
The 2022 trends dictate the fashion for etching, realistic, ornamental, and lettering tattoos. Fine lines, minimalism, simplicity, and airiness are what you should look out for this year.
A tip: Consider sharing your idea with your tattoo artist and ask them to draw sketches in several techniques you like to make a more informed final decision.
Color
Do you want your tattoo to be black or colorful? You can choose to take into account your complexion.
People with pale skin may want to consider tattoos in pastel colors with some green and yellow.
Those who have dark skin can go for vibrant colors, contrasts, bold outlines, and bright reds.
An experienced tattooist can consult you on what color scheme will flatter your complexion.
Color tattoos
Red tattoos
Black tattoos
Size
The size of a tattoo depends on its placement. Large and detailed scenes look better on the back, chest, and thighs. However, such sketches may not be a good choice for the first tattoo. It's better to start with a small tattoo in one of the less painful areas. We'll talk more about placements later.
Ideas for Your First Tattoo
What should you get as your first tattoo? Think of what has motivated you to get inked.
An interesting fact: Johnny Depp got the 'WinonaForever' tattoo in honor of his girlfriend Winona Ryder. After the couple broke up, he had to get the tattoo changed to 'WinoForever'. The actor did not learn from his mistake and inked the word 'SLIM', his nickname for Amber Heard. After their divorce, 'SLIM' was turned into 'SCUM'.
Your first tattoo can depict the first letter of your name or the name of your partner or child.
Tattoo artists recommend choosing something minimalistic and small. Here are some ideas:
flowers and floral motifs
Zodiac signs and constellations
abstract designs
words and phrases
bracelet or ring tattoos.
Where to Get Your First Tattoo: Choosing the Placement
When choosing the placement of your first ink, ask yourself the following questions:
Do you want the tattoo to be in plain sight?
Will you need to hide it under your clothes?
How much pain are you ready to endure?
The pain threshold varies from person to person. Plus, keep in mind that some parts of the body are more sensitive than others.
The least painful places are
the back
biceps
shoulders
outer parts of arms and legs.
The most sensitive areas are
elbows
wrists
shoulder blades
ankles
feet
back of the knee
ribs
neck.
Another criterion for choosing the placement is its accessibility for aftercare. The first tattoo should be located in a place where it will be easy for you to take care of it.
Keep in mind that your tattoos may influence your life. If you want to pursue a career in a big company or as a government official, decide on the placement carefully. Your tattoos should not prevent you from achieving your goals.
At what age can you get your first tattoo? You are free to get a tattoo in a parlor after you turn 18. Before this age, you have to get permission from your parents or guardians and you can get inked only in their presence.
What you Need to Know before Getting Inked
You should carefully prepare for your first visit to a tattoo artist.
Let's discuss the dos and don'ts before the procedure.
Don't consume alcohol, coffee, and other blood-thinning substances (such as aspirin) for 48 hours before getting a tattoo.
Drink a lot of water to make sure that your skin is hydrated and supple.
Get enough sleep and eat a good meal before the procedure.
Don't use anesthetic creams because they might affect the quality of your tattoo.
Wear loose clothes that won't fit closely around the tattoo.
Don't tan before the session.
To get a high-quality tattoo with zero risk, find an experienced and trusted artist in a popular parlor that has many good reviews. It's better to spare no money for this experience. If you choose a good tattoo parlor, you can be sure that the procedure will be safe and you won't get an infection or other unpleasant effects.
An experienced artist works with high-quality equipment, takes into account your preferences, and helps to choose the design and the best placement. Here's what you should pay attention to before the session:
the artist's equipment
whether the artist wears a face mask and gloves
the quality of tools and paints
whether the parlor follows safety measures.
Here's what else you need to know:
you can get ink over pigment spots
you must not get tattoos over moles
you can get a tattoo over a scar two years after you got it.
Tattooing Process and Aftercare
So, you've come to the tattoo parlor with a sketch and are full of determination to get your first tattoo. Here's what happens next:
The area for your tattoo is thoroughly disinfected and shaven.
After the skin is wiped with antiseptic, the artist transfers the sketch onto your skin.
The artist uses a tattoo machine or a single-use needle to ink the drawing into your skin, starting from the outlines and then filling the spaces and shading.
In the end, the area with the tattoo should be disinfected again and covered in a bandage or plastic wrap to prevent dirt from getting into the fresh wound.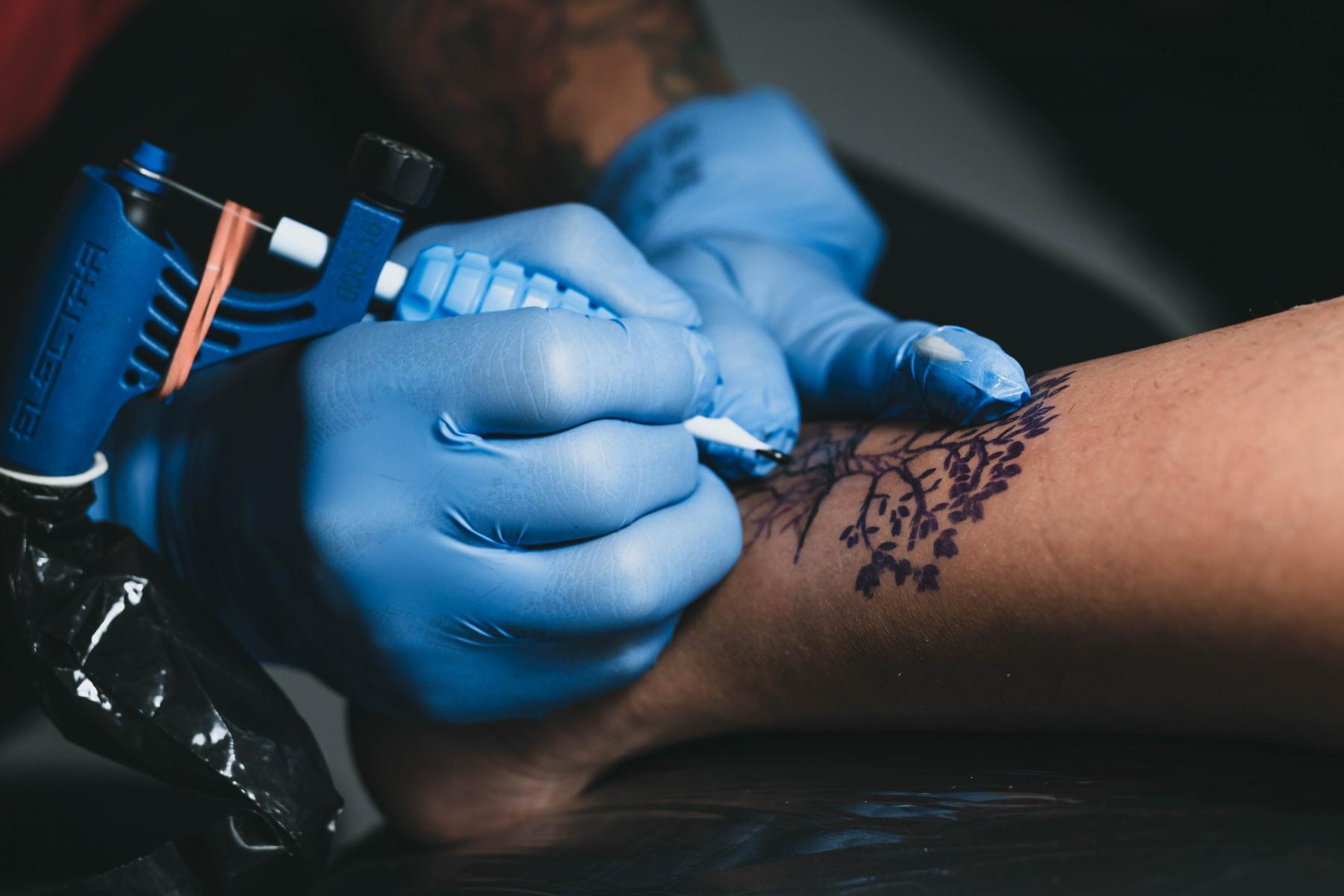 First Tattoo Aftercare
The right aftercare in the first days after getting a tattoo ensures its longevity. The more carefully you follow the aftercare rules, the more time will pass before you'll need the first touch-up.
Let's look at the aftercare rules:
Remove the bandage after as many hours as your tattoo artist said. The bandage should be worn for 3-5 hours and plastic wrap can last several days.
Gently wash your tattoo area with water and soap, but don't rub it.
Pat it dry with a towel. Single-use paper towels are perfect for this task.
Apply a healing ointment: Bepanthen, Panthenol, or another one that was recommended by your tattoo artist.
Don't exercise, go to a sauna, swim, or let the tattoo come into contact with chlorinated or salty water for two weeks.
Don't expose your new tattoo to direct sunlight for four-six weeks.
Protect the tattoo area with sunscreen (SPF 50 or 100).
Forget about body lotions, perfumed creams, and shower gels for your new tattoo.
Wear loose clothes that don't rub against the tattoo.
A new tattoo scabs a bit like any other wound — it's normal, but can be itchy. Don't scratch it or peel off the scabs. You can gently pat the tattoo or rub the skin around it. Otherwise, you risk getting scars.
The choice of your first tattoo is a responsible task because it will stay with you for a long time, if not forever. Study various styles, designs, and their meanings to find the one that will reflect your values and ideas the best. Visit our gallery of work that showcases work by artists from all over the world for inspiration.